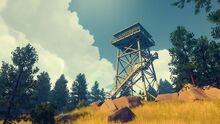 Two Forks Tower was a fire watch tower located in Shoshone National Forest. It was used to spot forest fires.
It was once used by Ned Goodwin, who occupied it with his son, Brian Goodwin. Three years later, it was occupied by Henry.
There were other towers in the vicinity, including Chimney Rock, Elk's Fork, Beartooth, and Thorofare Tower, and Two Forks was also close to Cave 452. Jonesy Lake could be found to the east.
Ad blocker interference detected!
Wikia is a free-to-use site that makes money from advertising. We have a modified experience for viewers using ad blockers

Wikia is not accessible if you've made further modifications. Remove the custom ad blocker rule(s) and the page will load as expected.