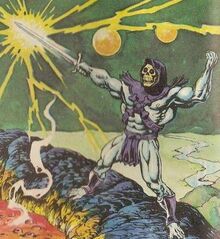 Skeletor was an evil being from the Masters of The Universe Multiverse, a blight upon the world of Eternia and its residents, a dark wizard formerly under the service of Hordak and Horde Prime, and determined to get into Castle Grayskull to unlock its powers and become the Master of The Universe.
He was routinely defeated by He-Man.
Prominent Variants
Ad blocker interference detected!
Wikia is a free-to-use site that makes money from advertising. We have a modified experience for viewers using ad blockers

Wikia is not accessible if you've made further modifications. Remove the custom ad blocker rule(s) and the page will load as expected.