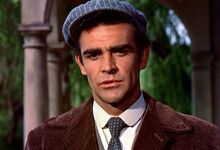 Michael McBride was a young Dubliner from the early 20th century from the Disney Multiverse. He married Katie O'Gill, and was an acquaintance of her father, Darby O'Gill, who'd had many encounters with Leprechauns.
Researchers have noted his resemblance to Paul Bradley, John Mason, James Bond, William O'Niel, and many others.
Ad blocker interference detected!
Wikia is a free-to-use site that makes money from advertising. We have a modified experience for viewers using ad blockers

Wikia is not accessible if you've made further modifications. Remove the custom ad blocker rule(s) and the page will load as expected.