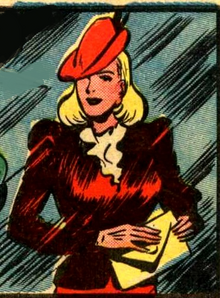 Joan Mason was a Human newspaper reporter, and the on-again off-again girlfriend of rookie policeman, Dan Garret, who, unknown to her, was secretly the crime-fighting vigilante known as the Blue Beetle!
Her hard-hitting articles about organized crime earned the ire of many crime bosses, and many attempted to bump her off.
During her career, she worked for many publications, including The Bulletin, The Daily Blade, the New York Chronicle, and the Daily Planet.
Ad blocker interference detected!
Wikia is a free-to-use site that makes money from advertising. We have a modified experience for viewers using ad blockers

Wikia is not accessible if you've made further modifications. Remove the custom ad blocker rule(s) and the page will load as expected.