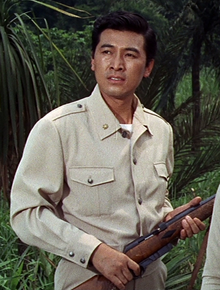 Lieutenant Jiro Nomura was a Human officer of the United Nations serving with Commander Carl Nelson.
On one occasion, when nearing Mondo Island, he, Nelson, and nurse Susan Watson piloted a hovercraft to the island for the purposes of exploration, while aware of the island's status as the home of King Kong.
The three of them would soon encounter the nefarious schemes of Nelson's old nemesis, Doctor Hu.
Researchers have noted his resemblance to Hideyo Ogata, Naotaro Daigo, Ichiro Sakai, and Ken Tashiro, among others.
Ad blocker interference detected!
Wikia is a free-to-use site that makes money from advertising. We have a modified experience for viewers using ad blockers

Wikia is not accessible if you've made further modifications. Remove the custom ad blocker rule(s) and the page will load as expected.