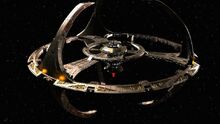 The Central Hub was a space station located in inter-mutiversal space, or in other words, inside the untread pathways of the Omniverse. Originally, the base was a variant of Deep Space Nine, from the Star Trek Multiverse. Following the application of Time Lord science, it became the Central Hub.
Its purpose was to allow for the residents of different multiverses to interact and to serve as a launching point for exploration of the Omniverse.
Unfortunately, it became obsolete, fell into disrepair, and was abandoned. At some point later, someone or something re-powered the systems, making the station randomly pluck people of interest from their home realities, where they would find themselves stranded on the station.
The Central Hub also chose to replicate portions of various locales throughout the Omniverse - towns, landmarks, geographic locations, even chunks of countries - suitable for the abducted life-forms. On occasion, life forms would be plucked as well as the locations, leading to small communities being formed.
Current Residents
Prominent Locales
Ad blocker interference detected!
Wikia is a free-to-use site that makes money from advertising. We have a modified experience for viewers using ad blockers

Wikia is not accessible if you've made further modifications. Remove the custom ad blocker rule(s) and the page will load as expected.