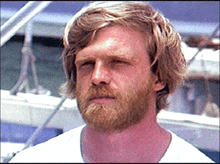 Brian Hull was a ship's captain and tour guide in the Zombie Multiverse. He was the husband of Susan Barrett. In 1979, they were hired by Anne Bowles and journalist Peter West to go to Matul, where they encountered Zombies.
Ad blocker interference detected!
Wikia is a free-to-use site that makes money from advertising. We have a modified experience for viewers using ad blockers

Wikia is not accessible if you've made further modifications. Remove the custom ad blocker rule(s) and the page will load as expected.