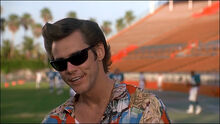 Ace Ventura was a Human Pet Detective from an Undefined Multiverse, with an impressive track record an eccentric personality, and was responsible for bringing the crimes of Ray Finkle and Vincent Cadby to light.
His resemblance to Lloyd Christmas, Truman Burbank, Bruce Nolan, Walter Getz, Luke Trimble, Tom Popper, Joel Barish, Fletcher Reede, and certain variants of The Grinch, Edward Nigma, and Stanley Ipkiss have been noted by researchers.
Ad blocker interference detected!
Wikia is a free-to-use site that makes money from advertising. We have a modified experience for viewers using ad blockers

Wikia is not accessible if you've made further modifications. Remove the custom ad blocker rule(s) and the page will load as expected.